Welcome to my East Tennessee & Western North Carolina Railroad photo album. Taken on my visits to the area for the annual ET&WNC Railroad Historical Society Convention, the photos are arranged chronologically and cover a wide range of subjects related to this famous little narrow gauge railroad. Some of these files are large, allow sufficient time for them to load properly.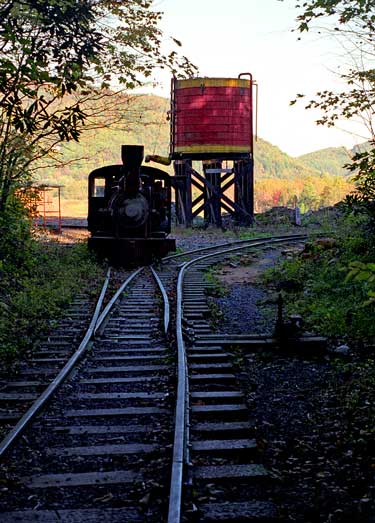 For many years a lack of web space has contributed to a small, static set of photos on this site. No longer. I've recently upgraded and you are looking at a complete site makeover with the ability to post more and larger photos. I hope you like the new look. Most of the old photos and commentary are still around, but you'll find a substantial increase in the number of images. And the full-size photos are now large enough to see the detail you are looking for. Click the "contact" button if you have questions or suggestions. Please get permission before posting any photos from this site, and give credit for any that are used.
I travel over to the ET area about once a year and get shots of whatever presents itself at the time, and hopefully it's something useable. Most of the photos are for my own reference when drawing maps, structure plans and other historical research. It provides me with lots of detail photos, and while most folks don't care about counting rivets, a few of you do, so you'll find photos here that may help in your own research.
Many of the shots are of peripheral objects along the railroad that date back to when the ET&WNC was up and running. Sadly those are disappearing with increasing frequency. Over the years I've documented a few pieces of infrastructure that have since been swept away by "progress" or mother nature. Bridges, trains, homes, businesses, locals, convention attendees, scenery and modern-day scenes can all be found here, and shots from out-of-the-way places are the norm.
These photos from the ET&WNC Railroad Historical Society conventions (and a few personal visits) are grouped according to the year they were taken, not by subject. Click on any image in the index to see what's available for that year then view the full-size photo along with some commentary. If you like what you see, or even if you don't, drop me an email and let me know. My hope is that everyone will find something that is new to them. Maybe a certain photo will bring back memories or perhaps spark your curiosity and imagination. Some may be fascinating, some as dull as dirt. Some may inspire you to visit the area, and if you aren't already a fan of the ET&WNC Railroad, perhaps you will be.
Anyway, I'll let you the viewer be the judge. Enjoy.